Natural materials and active agents -
for ideal comfort and a
light, fresh feeling
High comfort for the entire day
Contact Day 1 daily lenses are made of bi-ionic bio-hydrogel. This natural material is softer than conventional silicone hydrogels – without neglecting the eye's oxygen supply. This ensures a high degree of comfort throughout the day and makes Contact Day 1 the perfect alternative to glasses for special, active moments.
Stable moisture retention for a fresh feeling
Thanks to its bi-ionic composition, Contact Day 1 has a hydrophilic effect and ensures a stable moisture content of 58%. Furthermore, it reduces evaporation and deposits, and protects against irritation and intolerance – even with dry eyes. This results not only in improved quality of vision, but also in a comfortably light, fresh feeling.
Natural component – algin
Algin is a natural agent obtained from algae extract. This highly hydrophilic polymer holds lacrimal fluid on the lens surface, creating a protective film. Furthermore, additional non-ionic wetting agents promote the binding of moisture and prevent the adhesion of lacrimal deposits. Sun protection included Contact Day 1's active UV filter supports the eye's natural protection mechanisms and offers reliable protection against long-term damage from UV rays – even during long, active days in the sunshine.

High resistance to deposits:
With conventional ionic contact lenses (left), the negative charge of the lens surface results in positively charged deposits, e.g. proteins. Thanks to the positively and negatively charged ions in the material of Contact Day 1 (right), the charge of the lens surface remains neutral and deposits are prevented.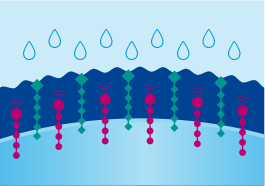 Non-ionic surfactants: surfactants bind moisture and prevent the adhesion of impurities.

Algin: this natural ingredient is extracted from marine plants. It binds moisture and also holds lacrimal fluid on the lens surface.
High water-binding capacity:
When binding and absorbing moisture, the bi-ionic lens material is supported by wetting agents – good for those who experience a feeling of dryness during the day.